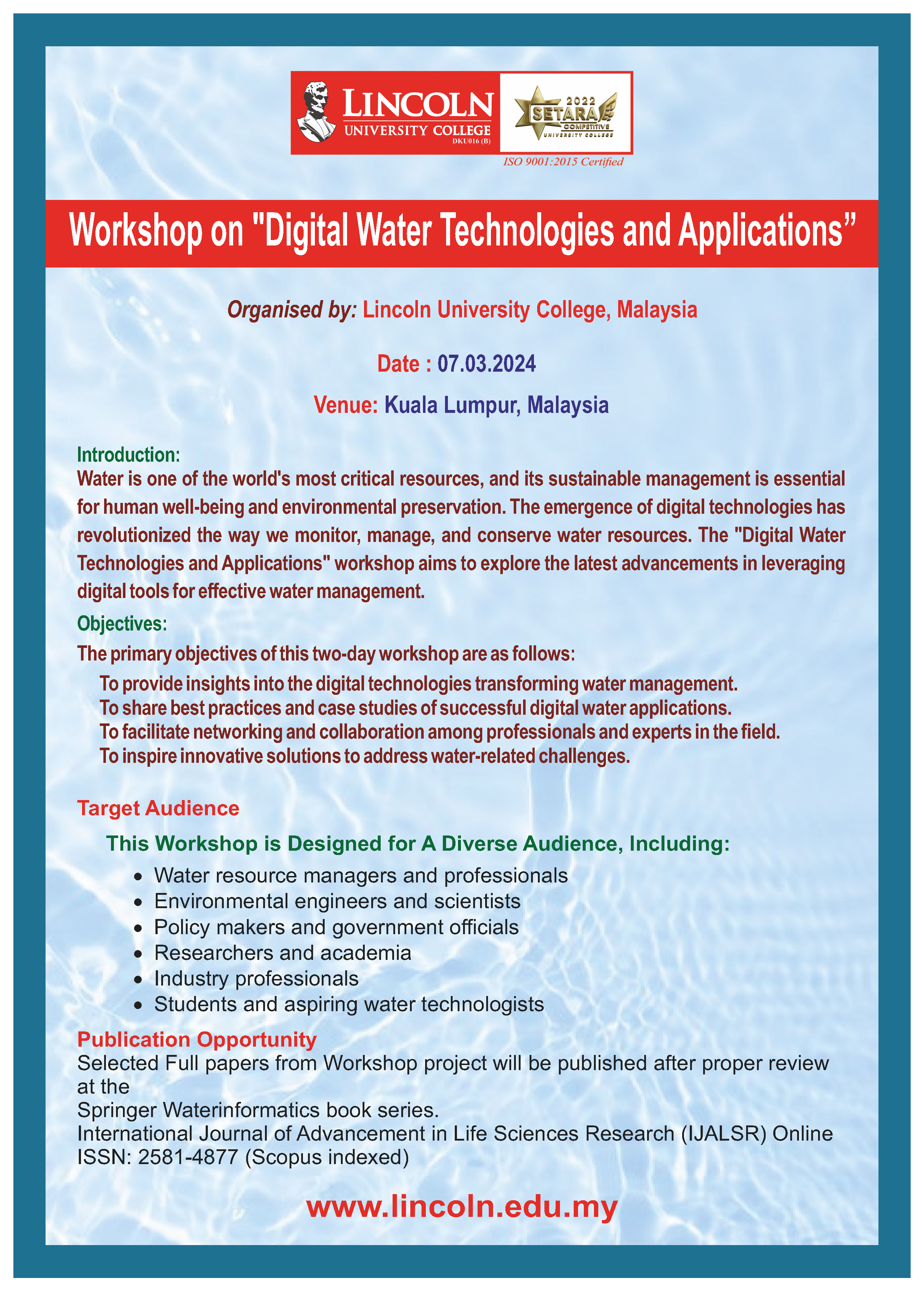 Publication Opportunity
Selected Full papers from Workshop project will be published after proper review at the Springer Waterinformatics book series.
International Journal of Advancement in Life Sciences Research (IJALSR) Online
ISSN: 2581-4877 (Scopus indexed)
About
Introduction:
Water is one of the world's most critical resources, and its sustainable management is essential for human well-being and environmental preservation. The emergence of digital technologies has revolutionized the way we monitor, manage, and conserve water resources. The "Digital Water Technologies and Applications" workshop aims to explore the latest advancements in leveraging digital tools for effective water management.
Objectives:
The primary objectives of this two-day workshop are as follows:
To provide insights into the digital technologies transforming water management.
To share best practices and case studies of successful digital water applications.
To facilitate networking and collaboration among professionals and experts in the field.
To inspire innovative solutions to address water-related challenges.
Target Audience
This Workshop is Designed for A Diverse Audience, Including:
Water resource managers and professionals
Environmental engineers and scientists
Policy makers and government officials
Researchers and academia
Industry professionals
Students and aspiring water technologists
Digital Water Applications
Session 1
Introduction to Digital Water Management
Oliver Grievson
Associate Director
AtkinsRéalis and a Royal Academy of Engineering
Visiting Professor at the University of Exeter
Overview of the digital transformation in the water sector
Session 2
IoT and Sensor Technologies
Prof. Anupam Chattopadhyay
Nanyang Institute of Technology, Singapore
Exploring IoT and sensor solutions for real-time water quality and quantity monitoring
Session 3
Data Analytics for Water Management
Dr. Jyoti Gautam
Chair, Digital Water India
Professor, Netaji Subhash Institute of Technology Delhi
Utilizing data analytics and machine learning for informed decision-making
Digital Water Applications
Session 4
Smart Water Infrastructure
Prof. Amlan Chakrabarti
University of Calcutta & Co-Chair Digital Water India
Implementing smart technologies in water supply and distribution.
Addressing water quality challenges using digital solutions.
Session 5
Case Studies and Success Stories
Prof. Amlan Chakrabarti
Dr. Jyoti Gautam
Real-world examples of digital water applications.
Malaysia: 350 RM
International: 100 USD
Payble to :
A/c Name : Asia Pacific Higher Learning SDN. BHD.
Bank : CIMB Bank Berhad
Account No : 80-0814364-9
Branch name : Taman Tun Dr. Ismail
Address : 138, Jalan Burhannuddin Helmi Taman Tun Dr. Ismail
60000 Kuala Lumpur
Wp Kuala Lumpur
Swift Code : CIBBMYKL
Paypal Link : https://www.paypal.me/lincolnuniversity01
Physical mode:
Lincoln University College, Petaling Jaya, Malaysia
Dr. Sandeep Poddar
Deputy Vice Chancellor (Research & Innovation)
Lincoln University College
Wisma Lincoln, No. 12-18, Jalan SS 6/12,
47301 Petaling Jaya,
Selangor Darul Ehsan, Malaysia
Phone : 1300 880 111 (Malaysia)
Phone : +603-7806 3478 (International)
FAX : +603-7806 3479
H/p : +60127071827
Email : sandeeppoddar@lincoln.edu.my
-->